Do you want to learn how to make the world famous Danish smørrebrød?
Book your ticket today and you'll be hands-on helping to create the best smørrebrød and taste the danish snaps.

Then participate in this enjoyable class in the heart of Copenhagen just 50 meters from the royal castle Amalienborg. Here you will learn how to make the famous Danish smørrebrød by a Danish certified chef and get the history behind smørrebrød.
If you say "smørrebrød", you also must say "snaps". In the workshop you will therefore also learn the story about snaps from us at Snaps Bornholm - we are one of Denmarks leading brands of snaps. You will of course get to eat three big pieces of smørrebrød and taste the snaps when the cookingclass ends in an enjoyable and social lunch with your own wonderful creations of smørrebrød.
What is included?
- Water and soda
- Two beers
- Three snaps from Snaps Bornholm
- Storytelling about snaps
- Three big pieces of smørrebrød with seasonal ingredients.

Price only DKK 595,-.
Minimum 15 guests
Book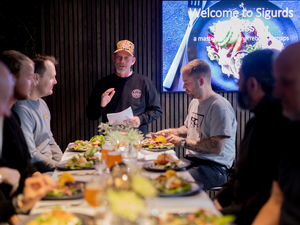 SMØRREBRØD& SNAPS MASTERCLASS IN THE HEART OF COPENHAGEN
WHEN & WHERE
When
See dates and book your experience here.

Food preferences & allergies
Please let us know of any dietary
preferences or food allergies we
should be aware of in the preparation of your cooking class.
If vegetarian/vegan please state so, so you can make plantbased smørrebrød in the cooking class.

Location
Lille Bornholm, Amaliegade 14, 1256 København K close to Amalienborg Castle in central Copenhagen (closest Metro station: Kongens Nytorv)
FIND US ON GOOGLE MAPS

Terms & conditions:
Ages18-110 minimum 10 and max 20 per group.
Language: English
BOOK
What to expect
The class starts at 11.00am.
Duration approx. 3 hours.
Your class includes:
- A selection of beverages available during the class (2 beers, soda, water)

- Your chef will introduce you to the program and show you how to make the smørrebrød you will be making today

- After the class we invite you to join your fellow classmates in the dining area to enjoy your beautiful and tasty creations

- A link to all recipes from the day including the recipes to bake your own traditional Danish Rye Bread

- Create a variety of traditional and seasonal toppings and sauces for your smørrebrød

- Assemble and decorate your smørrebrød beautifully

- Eat and hygge like a Dane

- The story about snaps and a tasteting of 3 snaps.
This is what you will experience...
Snaps tasting
Learn the story about snaps from Snaps Bornholm - one of Denmarks leading brands of snaps.
Snaps Bornholm strive to rethink the concept of snaps, while maintaining proud traditions. We celebrate the diversity of beautiful Nordic ingredients through quality spirits that are a feast for the eyes as well as the palate.

We start from the positive and love to stimulate and inspire other people.

Snaps and other spirits are produced with love, curiosity and dedication on
the basis of good raw materials and super-soft, crystal-clear Bornholm water, which has aged on mineral-rich rocky ground for billions of years, which helps to give the spirit an even more balanced taste.
Making sandwiches
SMØRREBRØD (means bread with butter really) was actually invented by working people who had to eat their lunch away from their home. They would use leftovers from last night's dinner, and pile it on top of their rye bread so that they could keep the hunger away until dinnertime.
Pålæg (lay-on) is what you put on top. Smørrebrød is almost always made with sourdough rye bread - we love rye bread in Denmark - and meat, fish, cheese, or seafood as toppings and today also vegan options with vegetables.
So is smørrebrød easy to make? Yes and no really. Some of the sandwiches are so easy, and you can make them with everything you have at home, whilst others are actually layered with so much amazing stuff that it would require a bit of effort to replicate them. One general rule is to add a generous layer of butter (not margarine) and then start adding on top.
When Danes celebrate Easter and Christmas we often have 'luncheons' where everyone brings homemade dishes, and we then pile meats, fish, and seafood on top of rye bread. There is also a sequence of how you eat Smørrebrød: You would always start with your cold fish dishes, moving on to your warm meat dishes, and finishing with fruit salad (mainly for kids) and a vast cheeseboard. This is not fast but slow food, and we often linger over lunch for a long long time.
Look forward to making and tasting your own smørrebrød at Sigurds Class.
Watch video
In this video you can get an impression of what you can expect when you participate in Sigurd's Class. We hope to see you.
read more here