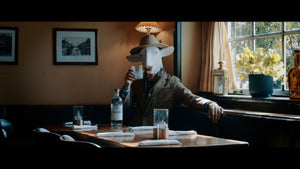 G.O.A.T.
Navnet til GOAT Gin opstod, da vi ønskede at lave den bedste gin nogensinde - Gin Of All Times. Ordet "GOAT" er i sportsregi benyttet om de bedste stjerner nogensinde, og vi mener, at vi har skabt den største GOAT i gin regi. Nå det vidste du ikke? Det ved du nu.
Mød Mr. GOAT
GOAT Gin har fået sin egen maskot! Mr. GOAT som pryder vores lækre flaske er symbolet på det store arbejde der ligger bag produkterne.
Mr. GOAT er ikke blot en almindelig ged. Han er selve symbolet på den sofistikeret humor og selvironiske tilgang til livet. Forestil dig en ged, der ikke kun går med elegance, men også emmer af bedrevidenhed med ironisk undertone. Dette er Mr. GOAT i en nøddeskal.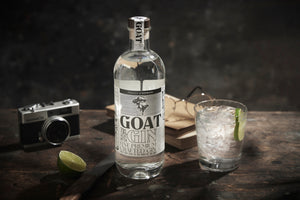 The goat is here
The GOAT Gin
Do you love gin too?

We, at Bornholm Spirits, are pleased to present our very own Danish organically produced gin, The GOAT Gin.
Our new goat in the class is our brand new classic gin in an urbane completed universe. A clear winner with a tonic and lots of ice.
Produced in the same way as a classic London dry gin, The GOAT invites with flavours of sage, wild juniper and elderflower. Although it's organic and Danish produced, we see no reason for you to bring out the big wallet to enjoy a good Gin & Tonic.
Find it here
Organic gin
The GOAT Gin
If you haven't tried our organic GOAT yet, you're in for a real treat. The GOAT Gin is the epitome of everything an irresistible gin should contain!
Mr. GOAT is ready to serve for a wonderful Gin evening with friends and family. A real winner with tonic and plenty of ice, and is made in classic London Dry gin fashion.

To be a London Dry Gin, no artificial ingredients, colours or flavours are allowed. And perhaps most importantly, no natural colours or flavours may be added after the distillation process.
Buy here
Cocktail
Fuzzy GOAT
5 cl. The GOAT Gin
2,5 cl. Lime juice
2 tsp. Sugar syrup
Sparkling water
1 Lemon slice
Iced cubes

1. Pour the gin, lemon juice and sugar syrup into a cocktail shaker and top up with ice cubes.
2. Shake well until the outside of the shaker feels cold.
3. Then strain into a tall glass filled with more ice and top up with sparkling water.
4. Garnish with a slice of lemon.
Try GOAT Gin here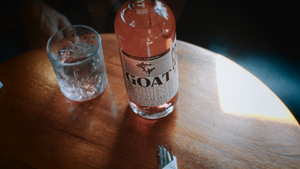 The GOAT Series
GOAT Strawberry
Vi, hos Bornholm Spirits, har glæden af at kunne præsentere vores helt egen danske GOAT Strawberry.
Uanset om den nydes på en solskinsdag på terrassen eller deles med venner ved en livlig sammenkomst, vil GOAT Strawberry uden tvivl begejstre. Lad sommeren omfavne dig og forkæl dig selv med ren fornøjelse fra denne udsøgte gin. Skål for uforglemmelige øjeblikke og forfriskende cocktails!
Bestil her
Gin fra Bornholm
Smagsnoter
Farven på "GOAT Strawberry" er en fryd for øjet og fremhæver sommerens essens med sin rige og tiltrækkende nuance af rød. Den lokkende duft bærer præg af en harmonisk sammensmeltning af botaniske noter, hvor den forfriskende duft af jordbær tager hovedrollen.
Denne strålende røde jordbærgin er fremstillet med en sommerlig blanding af ingredienser, herunder citron, enebær og angelikarod, koriander og saftige jordbær
Denne gin er en sand sommer gin og tilbyder en fantastisk smagsoplevelse, når den blandes med tonicvand. Den udvalgte kombination af ingredienser skaber en smagsprofil, der er både opkvikkende og tilfredsstillende, hvor jordbærrene giver en naturlig sødme, der danser på tungen.
Cocktail
Strawberry G&T
Ingredienser
4 cl. GOAT Strawberry
10 cl. Tonic
Isterninger
Jordbær til pynt
Fremgangsmåde
1. Fyld dit glas med isterninger og fyld GOAT Strawberry i glasset.
2. Top med en god tonic
3. Pynt med en skiver af jordbær.
The GOAT Series
GOAT LOW
GOAT Low - en ny ginbaseret spiritus fra Bornholm Spirits, der giver dig mulighed for at nyde en lettere og mere afbalanceret smagsoplevelse med kun 12,5% alkohol.
Denne ginbaserede spiritus er fremstillet med omhu og omfatter de samme nøje udvalgte ingredienser som vores originale "The GOAT Gin" - enebær, citron og kardemomme. Denne kombination giver en subtil og forfriskende smagsprofil, der er perfekt afstemt til at understøtte de fine botaniske nuancer uden at dominere.
Bestil her
The goat series
Kun 12,5% alc.
GOAT Low inviterer dig til at udforske nye dimensioner af smag og nydelse. Den er ideel for dem, der ønsker en mere afdæmpet og let ginoplevelse uden at gå på kompromis med kvaliteten eller den karakteristiske smag, der kendetegner en lækker gin.
Forkæl dig selv med GOAT Low og oplev en unik ginbaseret spiritus, der byder på en sublim balance mellem smag, friskhed og lethed. Uanset om du foretrækker at nyde den ren, med tonicvand eller som en del af dine foretrukne cocktails, vil GOAT Low ledsage dig på en behagelig og smagsfuld rejse.
Cocktail
Gin Sour
Ingredienser:
4 cl. The GOAT LOW
4 cl. Citronsaft
4 cl. Sukkersirup
En æggehvide

Fremgangsmåde:
Fyld en shaker med is.
Tilsæt The GOAT LOW, friskpresset citronsaft, sukkersirup og æggehvide i shakeren.
Luk shakeren og ryst den kraftigt i ca. 10-15 sekunder, indtil cocktailen er godt blandet.
Hæld cocktailen gennem en si over i et cocktailglas.
Pynt med en skive citronskal.