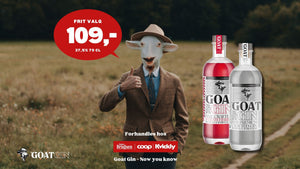 Taste box
Enjoy all our 8 organic snaps in this beautiful gift box containing 8 x 5cl bottles and a cocktail card with 8 different cocktails.
Special Edition
Rhubarb & Star Anise Snaps in collaboration with Casper Sobczyk
PINK EDITION
For the perfect summer cocktail. Our second batch of Vodka Bornholm Rosé Edtion has landed. Limited quantity.
Cocktails
We love cocktails and are constantly developing cocktails on our products, everything from Snapse cocktails to classic drinks.
What do our customers say?
★★★★★

Really good snaps and vodka from Snaps Bornholm. They know what they are doing and especially their new vodka that resembles a champagne bottle is nice. We bought it for a party and it was a hit.

Kenneth
★★★★★

The service from Lasse and his team is unique - experienced that DAO could not find my package and after a long search, Snaps Bornholm drove by with two bottles - it's good old-fashioned service that just makes it extra - That the snaps itself is fantastic does not make the case worse - Thank you

Claus
★★★★★

Snaps Bornholm is in itself a great snaps with flavors for every taste. What makes it even more unique is the possibility to also make cocktails that taste wonderful. I am a huge fan keep it up

Morten
★★★★★

Great snaps and exciting flavours, great for the classic lunch table.

Karen
★★★★★

Really good Vodka, can be enjoyed neat and is even better in cocktails. Smooth and elegant taste. It is a favourite.

Louise
★★★★★

I wanted to thank you sincerely for taking your time to pick and deliver Bornholm Spirits to Airtame last week.

Bornholm Spirits has contributed to making our evening truly special, and everyone was really pleased (perhaps too much pleased) during our Christmas party on Friday.

Once again, thank you so much.

Natalia Szczepanek
★★★★★

With Snaps Bornholm on the table at the Christmas party, I experienced for the first time that myself and my guests actually enjoyed drinking snaps - everyone loved both the walnut and the fig. Great that snaps is no longer just a "must have" with the herring, but instead a good and delicious taste experience:)

Nanna Nyholm

Project Manager
★★★★★

Rarely have you seen such an innovative and nuanced way to combine the many different flavors in long drinks and cocktails - I'm crazy about Snaps Bornholm😃🍹🥂

Kjartan
Bornholm Spirits
At Bornholm Spirits we are dedicated and 100% focused on giving you a great experience with our products. We are constantly developing new flavours and products using specially selected raw materials of the highest quality.

We have a desire at Bornholm Spirits here in Nexø on Bornholm, to become the leading organic spirits producer in the north.